Good Afternoon!!
Thank you for being an active part of the Onslow County GOP!  We encourage you to be involved in your precinct, to help us all accomplish the mission of recruiting Republicans and getting Republicans in office!  Our next meeting will be held on April 20th at Golden Corral.  We will vote for our County Board of Election recommendees at 6:00 and the meeting will be open to the public at 7:00. We look forward to seeing you there! Below are several things to share with everyone.  If you have questions or anything to input, please feel free to reach out to us at any time directly via email, call, or text.  
R/S,
Onslow GOP Executive Board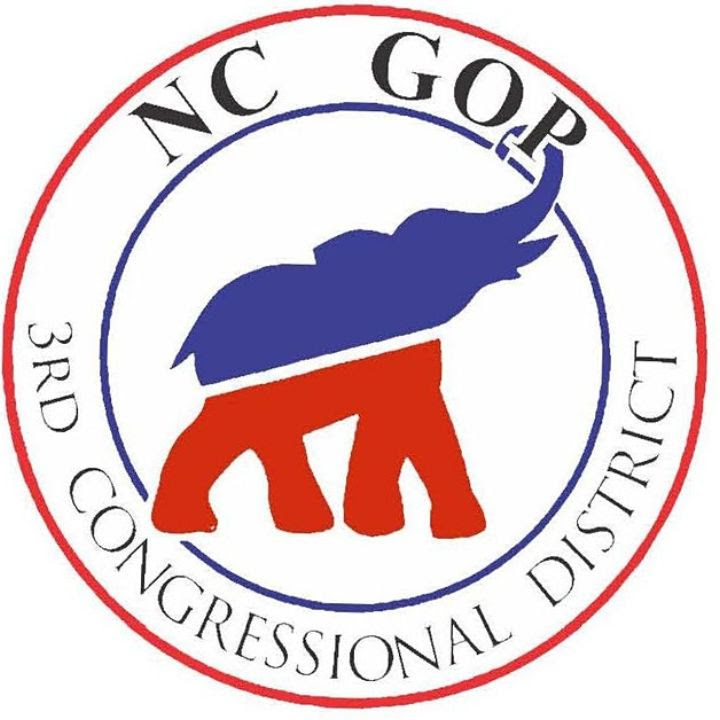 If you signed up to be a delegate for the 3rd District Convention, PLEASE PLAN ON ATTENDING! You can sign up by

 

clicking here

.

 

We did not vote on delegates at our convention, so a motion will be made to have us all seated as delegates on the floor. We have never had this problem happen in the past, but every effort has been made to correct the issue.  Many people said they didn't receive a form and it was important that everyone who wanted to go was offered the opportunity, up to the 166 allotted slots.    
Per the NCGOP State Plan of Organization, the 2021 North Carolina Republican Party State Convention shall convene on June 4th, 2021 at 2 p.m. at the Greenville Convention Center.  The purpose of the convention shall be to adopt the NCGOP Plan of Organization, Party Platform, and Resolutions, elect a State Party Chair and Vice-Chair, and carry out other actions the Convention may deem necessary. Information on Convention events, registration, and hotels can be found at 

https://convention.nc.gop

. 
Click here

 

for more info on the Voter Integrity Boot Camp to be held on April 24th put on by the Conservative Coalition of North Carolina-PAC!
Republicans in the General Assembly Continue to Fight for North Carolina Students
Republicans in the General Assembly continue to fight for North Carolina students and families. After leading the school re-opening effort, their recent bills to offer summer courses just became law!
Republicans in the General Assembly are fighting tirelessly for kids and families by sponsoring the "Excellent Public Schools Act" and "The Summer Learning Choice for N.C. Families."
Parents' choice in their kids' education is a Republican value. Republicans in the General Assembly just extended families the option to send their children to school over the summer to make up for the lost time.
The Excellent Public Schools Act of 2021

This legislation focuses on K-12 literacy, teaching spelling, fluency, vocabulary, oral language, and comprehension in a way that can meet each student's specific needs.
Cooper originally vetoed this bill in 2019, but his recent signature indicates that there is a need for its enactment post-COVID-19.
"After extensive learning loss for hundreds of thousands of children during the last year of school closures, it is critical we put our politics aside so we can finally enact improvements to early childhood literacy," said Senator Phil Berger.

The Summer Learning Choice for North Carolina families

This will allow families the option to send their kids to school over the summer to foster academic growth after a year of learning loss.
Students in Kindergarten through eighth grade will be assessed at the beginning and end of the program so "a single competency-based assessment per grade and subject" can be established for those students.
"This legislation is crucial for us to combat the learning deficit that has occurred due to the pandemic," said Representative John Torbett.
Anyone who would like to sign up for Congressman Greg Murphy's Roadside Cleanup Event on May 8th beginning at 9:00 AM with the Onslow County GOP group, please

 

CLICK HERE.
Click here

 

to get free digital access to The Heritage Foundation's Guide to the Constitution and have it at your fingertips as your reference. Be able to explain every clause in the Constitution in a way that is clear and understandable.